| | |
| --- | --- |
| Crash site | Near Konstanz, Germany |
| Airline | Deutsche Lufthansa |
| Aircraft | Heinkel He 70  –  D-UDAS  –  Habicht |
| Route | Seville   –  Stuttgart  –  Berlin |
| Crew | 2  –  0 survivors |
| Passengers | 0 |
The crash
The mail plane was to transport the airmail from South America on the final stage from Seville, Spain to Berlin via Stuttgart. The mail arrived in Seville at 04:01 and was loaded on board "Habicht" which left Seville at 06:06. At around 16:00 the plane crashed at Schienen 20 km. west of Konstanz.plane left Seville. A reascue worjer reported that the plane was totally damaged, but there had not been any fire, and all the mailbags were intact.
Some sources say the the plane also made a stop in Marseille between 11.00 and 11.28 before continuing towards Stuttgart.
The mail
On board the plane was 132.1 kilos of mail sent from South America (Argentina, Brazil and Uruguay are known).
All the mail was recovered and transported by rail to Stuttgart for processing. Most mail was udamaged and show no crash markings. Some torn covers were repaired with a pink label
Mail addressed to Germany and France is known. And perhaps also the cover to Sweden shown below.
If the plane made a stop in Marseille why was the mail for France not unloaded there ?
A.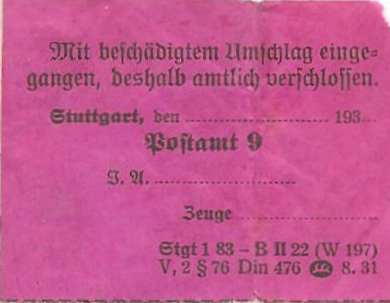 German resealing-label.
Pink w/black printing.
Size:    ?
Examples of mail