| | |
| --- | --- |
| Crash site | Rio de la Plata, Argentina |
| Airline | CGA (Compagnie Générale Aéropostale) |
| Aircraft | Latécoère 28 – F-AJPD – |
| Route | Buenos Aires – Montevideo – Natal – Recife – Dakar – Casablanca – Alicante – Barcelona – Perpignan – Toulouse |
| Crew | 2 – no survivors |
| Passengers | 2 – 1 survivor |
The crash
Few minutes after the nightly takeoff from Buenos Aires the crew encountered foggy conditions. The captain decided to reduce his altitude to maintain a visual contact with the water surface. The plane hit a wave and flipped over and crashed in the River Plate between Argentina and Uruguay.
The mail
1482 letters were recovered from the wreck. Mail for Europe was forwarded via Toulouse, France where a violet handstamp was used.
Two covers to Denmark and two covers to Sweden are known. None of these show Nordic markings.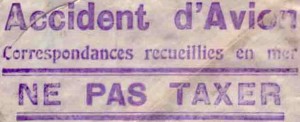 A.
French handstamp used in Toulouse.
Violet.
Size: 87 x 35 mm.
This handstamp was also used on mail from other air crashes forwarded via Toulouse in the years 1930 to 1932.
Translation:
Plane Crash / Correspondence recovered from sea / NOT TO TAX
B.


French handstamp.
Black.
Size: ?
The full text is difficult to read:
Cette letre incluse dans la / dépáche avion qui a fait / naufrage prés de Montevideo le 10 maie dernier
Translation:
This letter was on board a plane which crashed at Montevideo on 10 May this year.
Examples of mail
Cover from Argentina to Denmark with the French handstamp type A on back.
Registered cover from Argentina to Sweden with the French handstamp type A on back.
Cover from Argentina postmarked  BUENOS AIRES / SERV. AEROPOSTAL  9. MAY 1930 to Gothenburg, Sweden. On the back is the usual French handstamp type A. On the front is the unusual French handstamp type B.
Vogt Collection.