| | |
| --- | --- |
| Crash site | Don Muang military airbase, Bangkok, Thailand |
| Airline | KLM Royal Dutch Airlines |
| Aircraft | Fokker F VIIb/3m  –  PH-AFO  –  Oievaar |
| Route | Melbourne  –  Alor Star  –  Bangkok  –  Yangon  –  Amsterdam |
| Crew | 3  –  1 survivor |
| Passengers | 4  –  0 survivors |
The crash
Ready for takeoff from the military airbase the crew had to reject the first two attempts to get in the air. On the third attempt the plane rolled 1.500 metres when it hit a dirt bank. The landing gear was damaged and at 05:46 the plane crashed.
The reason for the crash was that the total weight exceeded the maximum, so the plane was undable to leave the ground. It also appeared that the overhead cockpit hatch was not closed.
The mail
The plane carried 250 kg. mail including the ordinary mail from Dutch East Indies, and also the Christmas mail from Bangkok. The Bangkok mail had not been able to leave due to flooding for some time.
183 kg. mail could be recovered. Two mailbags from Medan (one for Baghdad and one for Amsterdam) were lost.
The mail was forwarded to the Netherlands onboard the Fokker XII PH-AFV "Valk" and arrived in Amsterdam on 21. December.
Most of the mail was destined for the Netherlands. A few items to Austria and Belgium has been recorded, and also the cover to Denmark shown below.
A.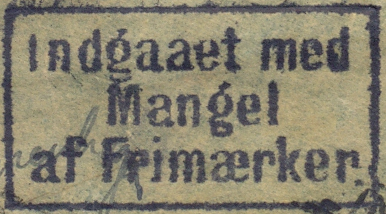 Danish handstamp.
Black.
Size:  31½ x 17 mm.
Many of the larger post offices in Denmark had a handstamp to be used on mail where the stamp for some reason was missing. The most common text was "Indgaaet med mangel af Frimærke" = Arrived with lack of stamp.
One of these handstamps was used on mail from this crash. It is unknown if it was used in Esbjerg or more likely in Copenhagen where the mail entered Denmark.
Examples of mail
Cover from Java in the Dutch East Indies postmarked BANDOENG  3.12.31 and addressed to Esbjerg, Denmark. The cover has no crash markings except for the Danish handstamp type A.
Thiesen Collection.