| | |
| --- | --- |
| Crash site | Setiba, Brazil |
| Airline | CGA (Compagnie Générale Aéropostale) |
| Aircraft | Latécoère 28 – F-AJOX |
| Route | Santiago – Buenos Aires – Montevideo – Recife – Natal – Dakar – Casablanca – Alicante – Toulouse – Paris |
| Crew | 3  –  0 survivors |
| Passengers | 0 |
The crash
On the flight to Recife and while flying along the Brazilian coast off Guarapari the crew encountered poor weather conditions with thunderstorm activity, heavy rain falls and turbulence. The plane crashed into the sea. Debris, cargo and the three dead crew memebes were found four days later on the beach of Sarita near Setiba.
The mail
As mentioned above the mail bags were found on the 2nd March. According to Nierinck 1.482 covers were recovered. A part of the mail was returned to the senders and some mail was forwarded to Europe via France.
Mail to the Nordic countries is scarce. Only one cover to Denmark has been recorded.
A.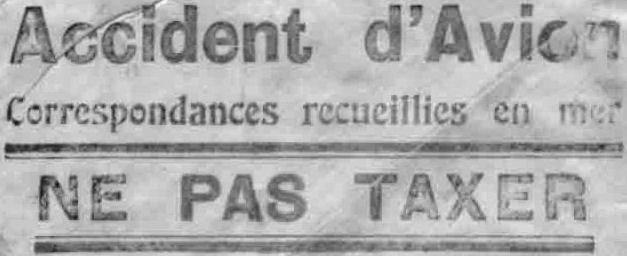 French handstamp used in Toulouse.
Black.
Size: 87 x 35 mm.
Translation:
Plane Crash
Correspondence recovered from sea
NOT TO TAX
This handstamp was also used on mail from other air crashes forwarded via Toulouse in the years 1930 to 1932.
Examples of mail
Registered cover from Paraguay postmarked ASUNCION and addressed to Copenhagen. On th back is the French crash handstamp Type A, a French transit postmark  PARIS R.P. REBUTS DE LA SEINE 14-3 32 and a Danish arrival postmark of Copenhagen KØBENHAVN 16.3.32.
Thiesen Collection.