| | |
| --- | --- |
| Crash site | Bushire Airport, Iran |
| Airline | KLM Royal Dutch Airlines |
| Aircraft | Douglas DC-2 – PH-AKM – Maraboe |
| Route | Batavia – Jodhpur – Bushire – Baghdad – Amsterdam |
| Crew | 4 – all survived |
| Passengers | 7 – all survived |
The crash
KLM operated a passenger and mail route between the Dutch Indies (today Indonesia) and the Netherlands.
Early in the morning the plane started off from Bushire airport which was known for its uneven and bumpy runway. The plane ran 300 metres and at a speed of 120 km/h it hit a bump on the runway and the right landing gear was sheared off and a fuelpipe caught fire. Crew and passengers were unhurt, but the plane was completely destroyed in the fire.
The mail
KLM sent out the Douglas DC-2  "Rietvink" from Amsterdam in order to take over the passengers, crew and mail.
Most of the cargo was destroyed in the fire. Of 116 kg of mail only 25 kg could be recovered and this in very charred condition. Most of the mail was destined for the Netherlands, where it was forwarded in different types of service covers. A special white service cover was used for mail to other destinations.
I have so far only seen four Nordic items (1 to Denmark and 3 to Sweden).
E.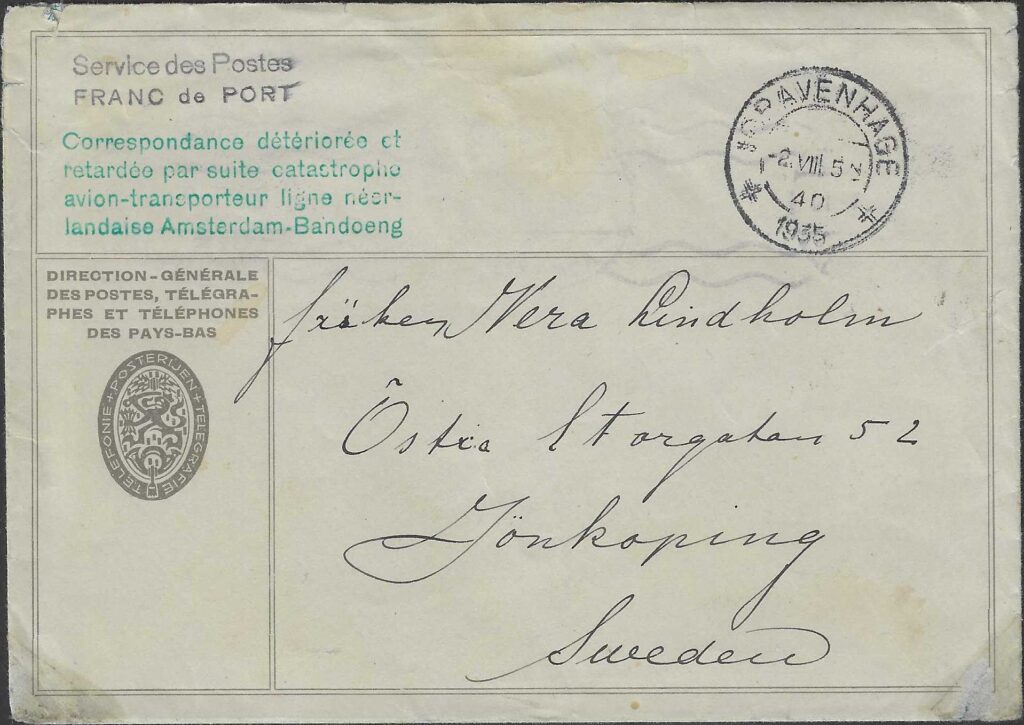 Dutch service cover.
Size: 161 x 114 mm.
Used to forward mail to countries outside Netherlands.
Two handstamps were struck in the upper left corner.
Black:
Service des Postes  /  FRANC de PORT
Green:
Correspondance détériorée et retardée par suite catastrophe avion-transporteur ligne néer-landaise Amsterdam- Bandoeng
Translation:
Correspondence deteriorated and delayed following the plane-carrier disaster Dutch line Amsterdam-Bandoeng
Examples of mail
Registered cover from Siam postmarked BANGKOK 13.7.35 to Copenhagen, Denmark. No special markings.
Thiesen Collection.

Cover from Siam with postmark BANGKOK 13.7.35 and addressed to Jönköping, Sweden. The much charred cover was forwarded in the service cover type E which show the postmark of s-GRAVENHAGE 2.VIII.1935. The cover arrived in Stockholm on 3rd August (machine postmark on the back STOCKHOLM 1  3.8.35).
Thiesen Collection.

 

Cover from Siam with postmark BANGKOK 13.7.35 and addressed to Stockholm, Sweden. This was probably also forwarded in a service cover type E.
Private Collection.