| | |
| --- | --- |
| Crash site | Mirabella Bay, Crete, Greece |
| Airline | Imperial Airways |
| Aircraft | Short S.17 Kent – G-ABFA – Scipio |
| Route | Alexandria – Mirabella Bay – Brindisi – Southampton |
| Crew | 4 – 4 survivors |
| Passengers | 7 – 5 survivors |
The crash
The flying boat arrived at Mirabella Bay as planned. There were strong lateral winds causing a rough sea, and when the plane touched the water it went out of control and crashed around 100 yards from the shore. The plane sank in a few minutes.
One of the crew members had inadvertently set the tailplane at maximum incidence which made the plane nose-heavy.
The Imperial Airways depot ship Imperia soon arrived at the crash site and took care of the crew and passengers.
The British cruiser HMS Durban later brought the crew and passengers and some of the mail to Athens where they arrived 25. August.
The mail
The plane was loaded with 38 mail bags which were all recovered within 6 hours, and then handed over to the Greek Post Office in Athens.
According to Sanford it seems as if mail to countries other than Great Britain was forwarded through the Post Office at Brindisi, Italy. Some show a transit postmark of Brindisi 1.9. – but not all. This mail was carried to Paris by train, and forwarded from there.
Some of the mail to Great Britain including 2 bags with 29 kg of mail from Hong Kong was carried by the next Imperial Airways flight coming through Athens, arriving in London on 25.8. The rest of the British mail was sent by rail to Paris, reaching London on 27.8. or 28.8.
Relatively many items still have stamps on – probably because they were recovered so quickly after the crash – or the mail was in the rear mail compartment which remained above the surface.
Many British and foreign markings were used when forwarding the mail.
As to Nordic mail I have only recorded two covers – both sent to Denmark. One was forwarded via England and the other via Germany.
A.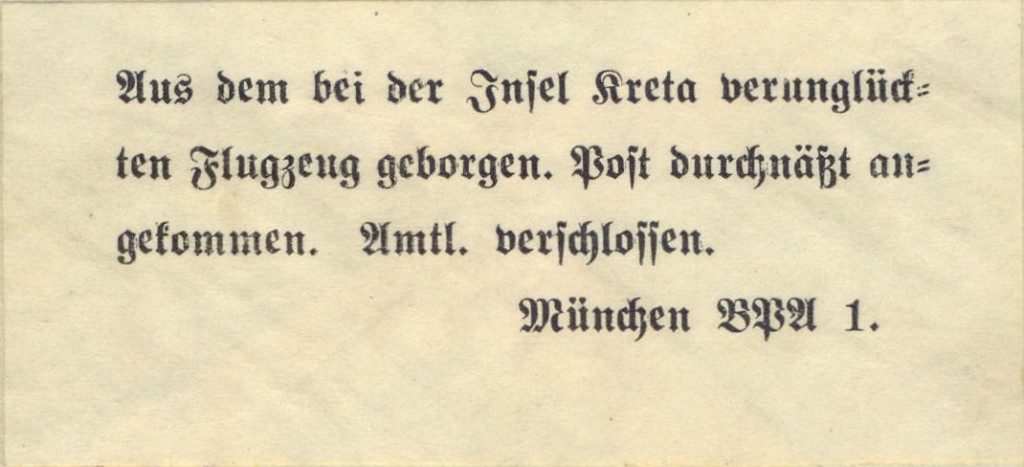 German label used in München.
Size: 89 x 41 mm.
B.
British handstamp.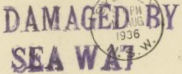 Violet.
Size: ?
Not complete.
Damaged or a poor strike?
C.
British handstamp.


Red.
Size: ?
D.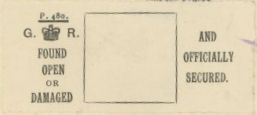 British resealing label.
Type P. 480.
Size: ?
Examples of mail
Cover from Teheran, Iran to Copenhagen, Denmark with illegible postmark as stamps have floated off. Marked: PAR AVION JUSQU'A MUNCHEN.
The cover was forwarded via München, Germany – see label type A at the back.
Thiesen Collection.
Cover from Australia postmarked SYDNEY 11 AUG 1936 to Denmark.
This cover was forwarded via Great Britain and show crash markings type B and C and on the back the resealing label type D.