| | |
| --- | --- |
| Crash site | Lone Peak, Salt Lake City, Utah, U.S.A. |
| Airline | Western Air Express |
| Aircraft | Boeing 247D – NC13370 |
| Route | Los Angeles/Burbank – Las Vegas – Salt Lake City |
| Crew | 2 – no survivors |
| Passengers | 5 – no survivors |
The crash
The plane was expected to arrive in Salt Lake City at 04:10. The last radio contact with the plane was at 03:27 when pilot S.J. Samson radioed he was at an altitude of 10,000 feet with "high overcast" near Milford, 90 miles southwest of Delta. The pilots then lost orientation due to local static conditions which rendered the aircraft's navigation receivers inoperative. Without a definite course to follow the plane drifted east and eventually crashed into Lone Peak in the Wasatch Range southeast of Salt Lake City.
At first the authorities thought the plane had landed at an isolated airport in the snow-rimmed area. An extensive search followed but without success. The famous female aviator Amelia Earhart participated in the search. The wreck was eventually discovered in June 1937 – 7 months after the crash!
The mail
The plane carried 260 kg of mail and 256 kg was recovered and brought to Salt Lake City. The first mail arrived here on 7 June 1937. The American Air Mail Catalogue lists 4 different handstamps and a mimeo label. Badly damaged mail was forwarded in penalty envelopes.
As this was a domestic flight it did probably not carry much mail for overseas destinations. The only Nordic cover I have seen is a cover to Denmark.
A.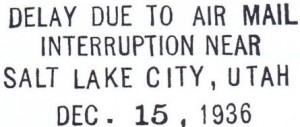 4-line handstamp with date.
Violet.
Size: 52 x 24 mm.
AAMC type B.
Examples of mail
Cover from U.S.A. postmarked ONTARIO  CALIF.  DEC 14  1936 and adressed to Copenhagen, Denmark.
At the back is a transit postmark PARIS R.P.  AVION  27 . VI 1937. Over a half year after the disaster.
Thiesen Collection.