| | |
| --- | --- |
| Crash site | Marignane/Berre seaplane base |
| Airline | Air France |
| Aircraft | Lioré-et-Olivier H-242  –  F-ANPB  –  Ville de Bône |
| Route | Marignane  –  Ajaccio, Corse  –  Tunis |
| Crew | 5  –  2 survivors |
| Passengers | 9  –  4 survivors |
The crash
The flying boat was ready for take off from the seaplane base at 07:45 in the morning. For unknown reasons the pilot instead of turning left to avoid well-known natural obstacles took a course direct into a stone dike. As the speed was high the plane was totally destroyed as it caught fire and sank.
The mail
At least some of the mail was salvaged. The mail was brought to Marseilles for further processing.
A.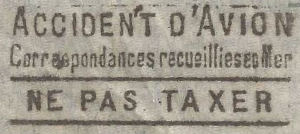 French handstamp.
Black.
Size:  ?
Translation:
Airplane Accident
Correspondence salvaged from the sea
DO NOT TAX
Examples of mail
Cover from Denmark postmarked BRØNSHØJ 7.2.37 addressed to a Danish sailor onboard the ship M/S TUNIS in Tunisia. It seems as if he had left as the cover is readdressed. The cover show the usual French crash handstamp type A. On the back is a French transit postmark of PARIS AVION 8.II.1938 and also a postmark of Marseilles 14.II.1938.
Christiansen Collection.