| | |
| --- | --- |
| Crash site | LaGuardia airport, New York, U.S.A. |
| Airline | United Air Lines |
| Aircraft | ? |
| Route | Oakland  –  Chicago  –  New York/LaGuardia |
| Crew | ? |
| Passengers | ? |
The crash
The plane crashed at 05:30 AM when attempting to land at LaGuardia airport. The plane overshot the runway and plunged into Flushing Bay.
The mail
The plane carried 479 kg of mail which was recovered – mostly in watersoaked condition. The American Air Mail Catalogue lists 3 different handstamps from this crash. As this was a domestic flight it probably did not carry much mail for overseas destinations. The only Nordic cover I have seen is a cover to Sweden.
A.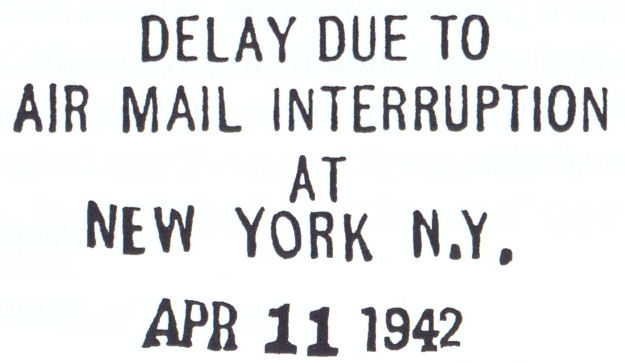 5-line handstamp with date.
Violet.
Size: ?
AAMC type b.
Examples of mail
Part of cover from U.S.A. with illegible postmark and addressed to Sweden. U.S. crash handstamp type A. Also two postal markings referring to missing stamp/insufficient postage. The cover passed U.S. censorship and a special label was enclosed re. the mutilation of the letter.
Thiesen collection.