| | |
| --- | --- |
| Crash site | Near Vienna/Aspern airport, Austria |
| Airline | Det Danske Luftfartselskab (DDL) |
| Aircraft | Junkers Ju 52/3m  –  OY-DAL  –  Selandia |
| Route | Berlin  –  Vienna |
| Crew | 2  –  0 survivors |
| Passengers | 16  –  0 survivors |
The crash
In late 1942 the Danish airline DDL operated the route Copenhagen-Berlin-Vienna using a Focke Wulf Fw 200 Condor (OY-DEM Jutlandia). In November 1942 this plane was taken out of operation for maintenance. Instead the Junkers Ju 52/3m Selandia was put into service. The Junkers Ju 52/3m was a smaller plane and it was only operating on the daily route Vienna-Berlin-Vienna.
On 18th December while descending to Vienna airport the crew encountered bad weather with low skies and fog. When the pilot made a planned turn to approach the runway the plane went out of control and at 16:53 it crashed around 1 kilometer from the runway. The crash investigators thought that the pilot might have been blinded. The plane was damaged beyond repair.
The mail
The plane carried mail. In my collection I have one cover from Norway which was involved in this crash (see illustration below). Lately a cover from Finland also showed up.
01.


Austrian handstamp.
Violet.
Size:  77 x 18 mm.
Translation:
Damaged in airplane accident
In the handbook "Schweizerisches Luftposthandbuch – Ausgabe 2018" this handstamp is shown on 3 items sent from Switzerland to Budapest – all postmarked 17.12. The handbook state that they were recovered from an unknown crash on a Lufthansa flight on the route Berlin-Prag-Wien-Budapest.
Two items are shown here: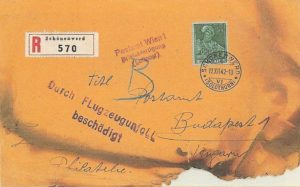 The first cover also show a small interesting handstamp " Postamt Wien 1 / Briefabfertigung / (Luftpost)" which could indicated that the damaged mail was processed here in Vienna.
During this period mail out of Switzerland was flown by Swissair from Zürich via Stuttgart to Berlin.
It does not seem as if these items from Switzerland passed German censorship and none of the items are marked as Airmail (Luftpost). Perhaps the lack of censorship is due to the fact that Switzerland was neutral? And I guess the Swiss Post was interested in just getting so much mail out of the country as possible.
I contacted the person who is responsible for updating the crashmail section in the handbook. I presented my theory, but he was not particularly convinced.
Examples of mail
Registered cover from Norway postmarked OSLO SOLLI 16-12-42 and addressed to Bratislava, Slovakia. The cover went through German censorship in Berlin (the circular handstamp "Ab" is a so-called "Durchlaufstempel der Auslandsbriefprüfstelle Berlin"). On the front is the Austrian crash handstamp type A.
Thiesen Collection.

Registered cover from Finland postmarked HELSINKI  3  15.XII.42 and addressed to Vienna, Austria. This cover also went through German censorship in Berlin (circle Ab). On the front is the Austrian crash handstamp type A and a handstamp used at the "Postamt Wien 1".
Private Collection.