| | |
| --- | --- |
| Crash site | Glen Esk, Scotland, Great Britain |
| Airline | BOAC (British Airways Overseas Corporation) |
| Aircraft | De Havilland Mosquito  –  G-AGGF |
| Route | Leuchars/RAF  –  Stockholm/Bromma |
| Crew | 2  –  0 survivors |
| Passengers | 0 |
The crash
The plane took off from the airbase at Leuchars at 20:16. The crew soon experienced difficulties with the orientation, and they requested several times for bearing and distance information. As they had no response they decided to return to Leuchars. At 21:30 the plane crashed when it hit a mountain near Glen Esk more than 60 km north of the airbase.
The wreck was located on 8 September by a local gamekeeper – 3 weeks after the crash.
The crash investigators suspected that the airplane suffered a major instrument or compass systems failure, hence the many requests for directions. The plane was on wrong course right from the start. The report criticized Air Traffic Control at several airfields for failing to recognize an emergency situation and not answering the air crew's pleas for directional information.
The mail
The plane carried 608 kg of mail which according to the the records was lost in the crash. I have recorded 5 items, which I think very well may come from this crash (see illustrations below). All these items were processed by the Returned Letter Section, Mount Pleasant, London which usually handled British crash mail. This office used different handstamps, labels and service covers.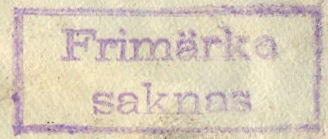 A.
Swedish handstamp.
Violet.
Size:  26 x 10 mm.
Translation: Stamp missing

B.
British handstamp.
Colour ?
Size:  ?

C.
British handstamp.
Violet.
Size:  55 x 8 mm.

D.
British resealing label.
Size:
Type:
RLS 54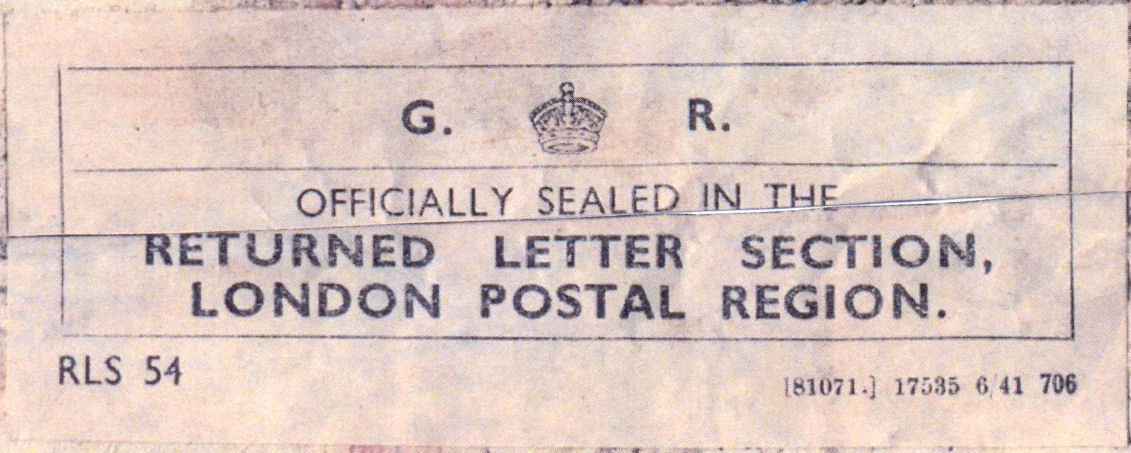 E.
British resealing label.
Size:  94 x 39 mm.
Type:
RLS 54
(81071.) 17535 6/41 706
Examples of mail
Cover from England postmarked LONDON 10 AU 1943 and addressed to Stockholm, Sweden. Cover show Swedish handstamp 01 referring to the missing stamp and British crash marks type C and E.
Thiesen Collection. 

Cover from England postmarked BRADFORD 10 AU 1943 and addressed to Norrkoeping, Sweden. Cover show the British crash marks type C on front and E on the back. Also arrival postmark of MALMÖ -2.10.43.
Spoor Collection.

Badly damaged cover from Midland Bank, London postmarked LONDON 6 AU 1943 and addressed to a bank in Stockholm, Sweden. British handstamp type C and RLS service cover.
An article in La Catastrophe March 2009 stated that this cover was onboard ABAs Douglas DC-3 which crashed on 27. August 1943 in the North Sea, Denmark. I doubt this information.

Cover from England with machine cancellation LONDON 9 AUG 1943 and also double ring postmark used to cancel another stamp which has fallen off. The cover has a British crash handstamp type B and the resealing label type E.
It is not known if the cover was forwarded to Sweden or returned to the sender.

Postal stationery card from Tunisia written 18 July 1943 and postmarked TUNISIE 20-7. On the front is the British handstamp type C.
Ekenstierna Collection.