| | |
| --- | --- |
| Crash site | New Delhi Airport, India |
| Airline | ? |
| Aircraft | ? |
| Route | ? |
| Crew | ? |
| Passengers | ? |
The crash
The cover below has a label which refer to an airplane collision on New Dehli airport July 12 1945. I assume that Dehli is spelled wrong and that it refer to New Delhi airport in India (also known as Willingdon airport).
So far I have not been able to find any information about an incident at this airport at this date.
The mail
I have only recorded one cover from this incident.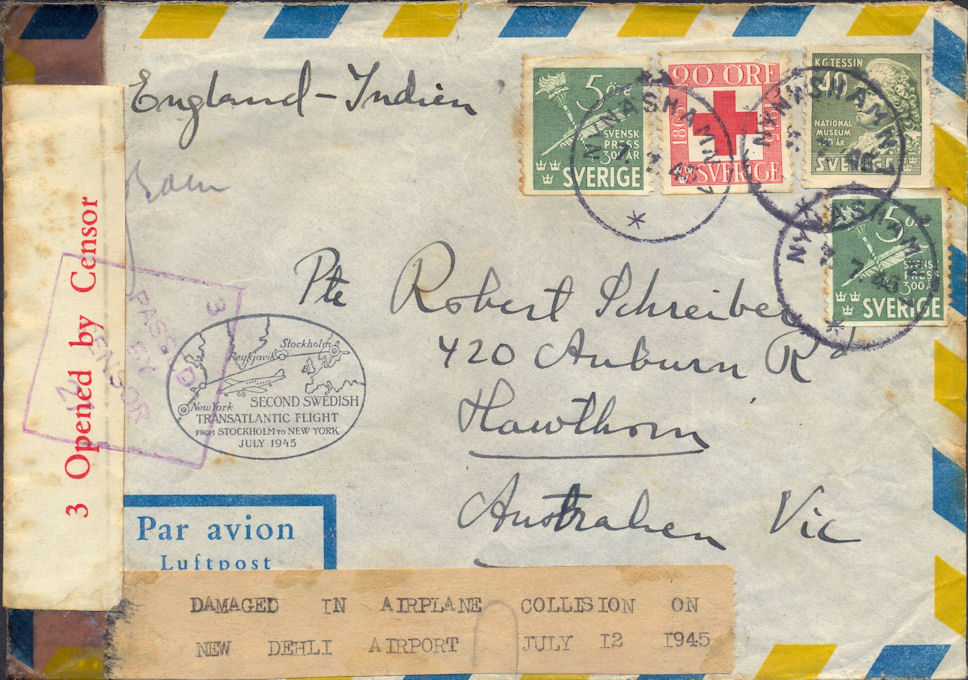 Cover from Nynäshamn, Sweden to Hawthorne, Australia.
A.
Swedish postmark "NYNÄSHAMN 7.7.45".
B.
Oval handstamp "SECOND SWEDISH TRANSATLANTIC FLIGHT FROM STOCKHOLM TO NEW YORK JULY 1945".
These early flights were carried out by the Swedish airline SIL (Svensk Interkontinental Lufttrafik AB), and the route was Stockholm – Reykjavik – Newfoundland – New York.
The second flight left Stockholm on 10 July and arrived in New York two days later.
Most of the mail I have seen from this flight are philatelic covers end they were postmarked with a special handstamp "STOCKHOLM 1 * LUFTPOST * 10.7.45". Registered mail was backstamped "NEW YORK 13.7.1945".
C.
At the left is a brown transparent U.S. censor tape with text "EXAMINED BY  /  6786". This censor was operating in New York, United States.
D.
Slightly overlapping the U.S. censor tape is the New Delhi label "DAMAGED IN AIRPLANE COLLISION ON /  NEW DEHLI AIRPORT JULY 12 1945". Note the error in spelling Delhi. I assume that it should be NEW DELHI.
E.
Also at the left is a white censor label with red text "3 Opened by Censor " overlapping the other labels and also a violet censor handstamp "3 PASSED BY CENSOR  27". Both the label and the handstamp were used in Melbourne, Australia.
This mysterious cover raises two major questions:
1.
What happened on New Delhi airport on 12 July 1945.
I have not been able to find any information about an incident at this date.
2.
Which route did this cover take? Was it possible to travel from Sweden 7. July via U.S.A. and then be in New Delhi on 12. July?
It should be very interesting to see another item with this New Delhi label.
Examples of mail
See detailed description above.
Thiesen Collection.