| | |
| --- | --- |
| Crash site | Hvammsfjordur, Iceland |
| Airline | Loftleidir |
| Aircraft | Grumman JRF-6b  –  TF-RVI |
| Route | Iceland  –  Copenhagen |
| Crew | 1  –  1 survivor |
| Passengers | 7  –  3 survivors  |
The crash
In late 1946 the Icelandic company Loftleidir bought a Grumman Goose from the U.S. Navy as they were going to operate a route between Iceland and Denmark from 1947.
On 13 March 1947 the plane crashed immediately after take off from the fjord Hvammsfjordur near the town of Budardalur. The pilot and 4 passengers were rescued by a boat after they evacuated the plane. 3 passengers did not get out of the plane before it sank. One of the rescued passengers did not survive.
The mail
Nierinck does not mention this crash in his handbook. The Icelandic post produced a special label which indicates that a certain amount of mail was on board.
I have only recorded one cover from this crash – see below.
A.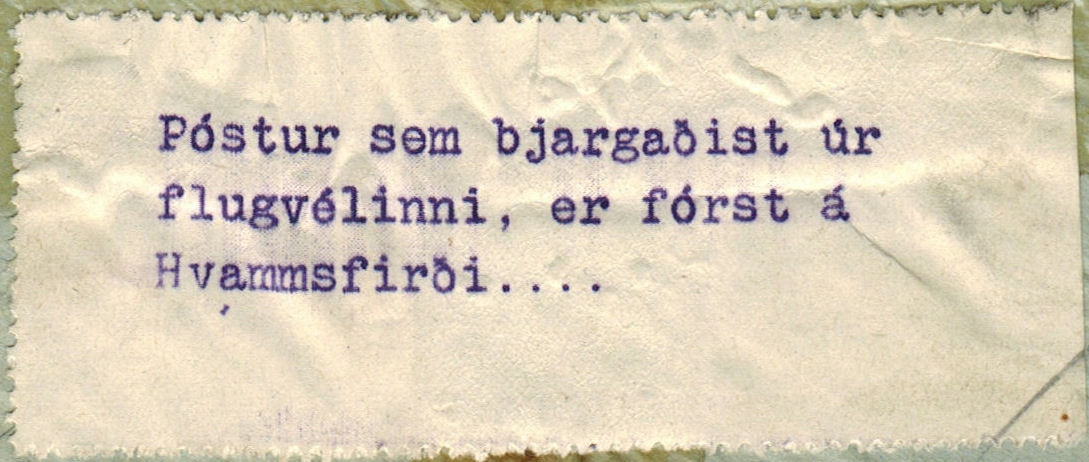 Icelandic label.
Size: 90 x 38 mm.
Perforated at 3 sides.
Translation:
Mail salvaged from airplane which crashed in the Hvammsfjordur….
Examples of mail
Registered cover from Iceland postmarked ISAFJÖRDUR  12 III 47 to Copenhagen, Denmark. On the back of the watersoaked cover is the Icelandic crash label.
Slettebø Collection.