| | |
| --- | --- |
| Crash site | Nice airport, France |
| Airline | Air France |
| Aircraft | SNCASE SE.161 Languedoc  –  F-BCUM |
| Route | Tunis  –  Nice  –  Paris/Le Bourget |
| Crew | 4  –  0 survivors |
| Passengers | 34  –  0 survivors |
The crash
Shortly after takeoff from Nice airport and still in the initial climb the airplane banked to the left, overturned and at 08:10 it crashed in a huge explosion near the Saint-Augustin railway station around 1 km north of the airport.
The cause of the accident was that the aileron controls had jammed.
The mail
The crash is mentioned by Nierinck, but without any information about mail. It is most likely that most of the mail was destroyed in the heavy crash.
So far I have only recorded two items from this crash, and even if this was a domestic flight, both are addressed to countries outside of France – one cover to the United States and another cover to Sweden
A.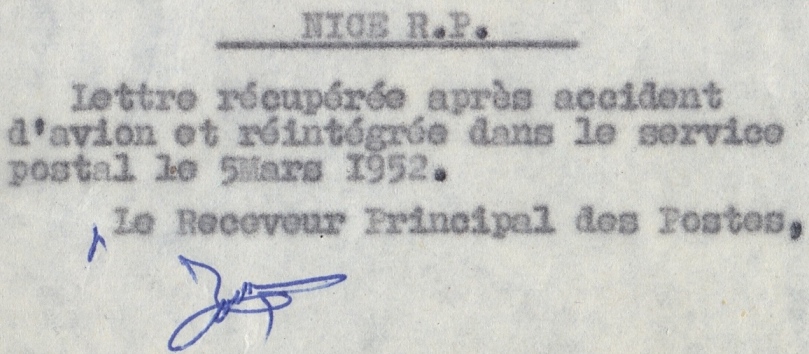 French label.
Size of textblock:  96 x 27 mm.
Translation:
Letter recovered after plane crash and reintegrated in the postal service on March 5, 1952.
B.


French handstamp.
Violet.
Size:  60 x 8 mm.
Translation:
NICE, the ………………..
    The Inspector
Personal handstamp of the inspector who handled the item.
C.
French service cover.
Size:  175 x 125 mm.
Both known items were forwarded in a French service cover type no. 862. On the covers the inspector wrote an English explanation in red ink.
Examples of mail
Cover from France postmarked NICE R.P.  2-3 1952 and addressed to Stockholm, Sweden. The damaged cover was forwarded in a French service cover postmarked NICE R.P. 5-3 1952 together with crash label type A. and handstamp type B. – both signed by the Inspector who handled the item.
Thiesen Collection.