| | |
| --- | --- |
| Crash site | Saint Priest, France |
| Airline | Air France |
| Aircraft | Douglas C-47  –  F-BCYK |
| Route | Nice  –  Marseille  –  Lyon  –  Paris |
| Crew | 3  –  0 survivors |
| Passengers | 0 |
The crash
The plane operated on the night time mail route from Nice to Paris via Marseille and Lyon. When approaching Lyon/Bron airport the plane struck a pylon in the village of Saint Priest and at 00:17 it crashed  2 km south of the airport and caught fire.
The reason for the crash was that the crew lost the orientation due to heavy fog in the area.
Nierinck list this crash as 560127 which is wrong.
The mail
A part of the mail was recovered and forwarded by the French Post in Lyon with a French handstamp. Badly damaged mail was forwarded in a service cover.
As this was a domestic flight there was not much mail onboard addressed to any of the Nordic countries.
One cover to Sweden is known.
A.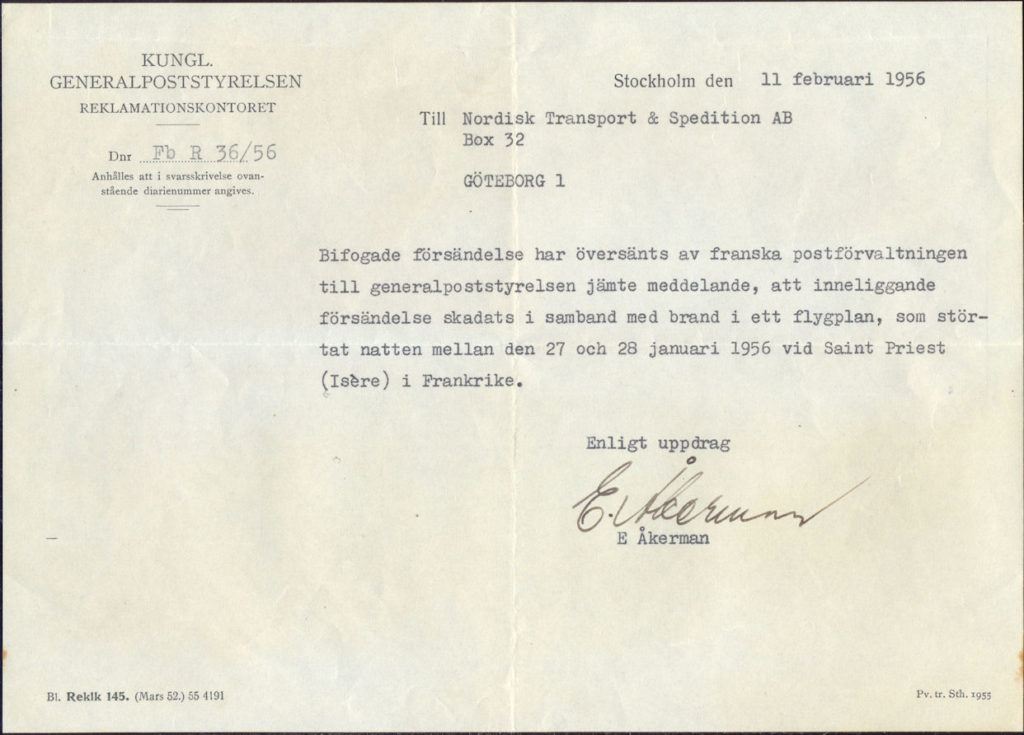 Swedish Explanatory letter.
Size: 210 x 148 mm.
The Swedish text explain the reason for the damage to the cover.
B.


French handstamp.
Violet.
Size:  67 x 13 mm.
Translation:
Damaged mail  /  Airplane accident
Examples of mail
Cover from France postmarked MARSEILLE 27 1 1956 addressed to Gothenburg, Sweden. The cover was forwarded to Sweden with the French crash handstamp type B and sent in an unusual French service cover type Nos 716 postmarked LYON-GARE  2 – 2 1956. In Sweden the cover was forwarded to the recipient with an explanatory letter type A.
Thiesen Collection.