| | |
| --- | --- |
| Crash site | Rønne airport, Denmark |
| Airline | Muk Air |
| Aircraft | Cessna 402  –  OY-SUM  |
| Route | Copenhagen/Kastrup  –  Rønne |
| Crew | 1  –  0 survivors  |
| Passengers | 0  |
The crash
As the ordinary mail plane to Bornholm, an Embraer Bandeirante, had technical problems Muk Air sent two smaller planes on the morning flight. The first plane, a Piper Chieftain landed on schedule and without problems. About 5 minutes later followed a Cessna 402, but as the plane approached the runway the pilot reported serious problems – he had lost control. Shortly after the plane made a gratuitous 180 degree turn and at 06:34 it crashed into a wooded area 1 km from the runway.
Rescue vehicles from the airport were soon at the crash site, and even though there was no fire a crash truck laid out a coat of foam. The following day the wreck was moved to a hangar at Rønne airport. Here the crash investigators worked for many days, but the cause of the accident was apparently never determined.
The mail
The two planes were loaded with a total of 1.291 kg mail. The crashed plane carried around 400 kg – including foreign mail, express and insured mail, mail from the Postgiro Office in Copenhagen and some packages. Almost all the mail could be recovered. As the firetrucks had covered the wreck with foam, all packages and mail bags were soaked. Some letters etc. were scattered around the crash site or hung in the trees. The recovered mail was brought to the airport for further inspection, and later the mail was transported to Rønne Post Office for further processing. The mail was forwarded with a special label which explained about the reason for the damage. Much of the mail was greasy because of the extinguishing foam, and these items were forwarded in a special plastic bag for damaged mail.
A.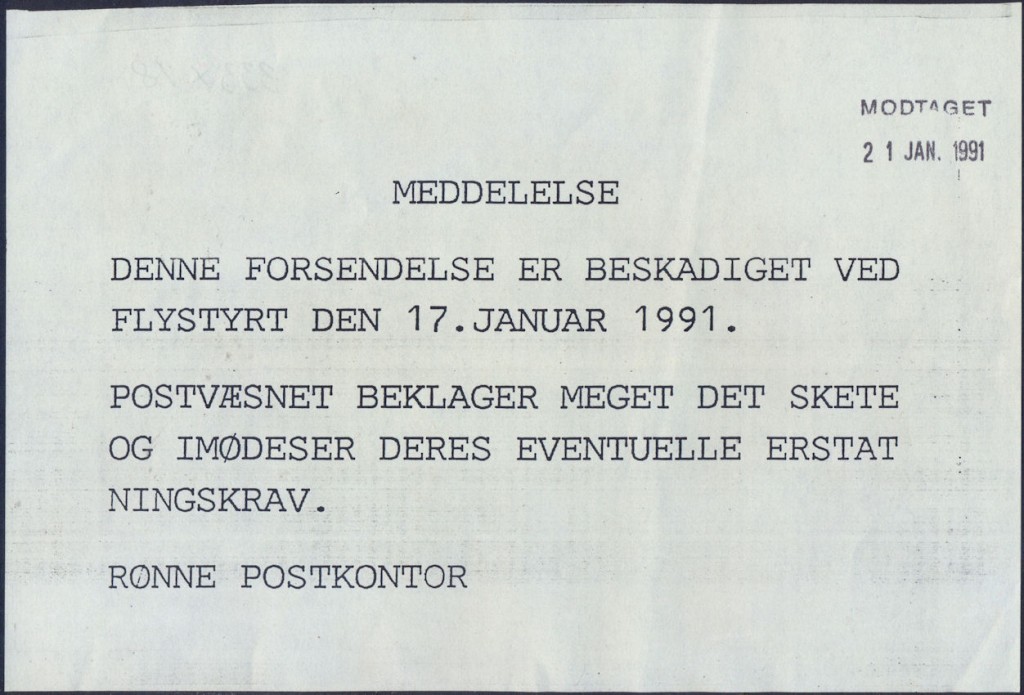 Danish label.
Size: 210 x 141 mm (A5).
Text translation:
Message
This mail item is damaged in plane crash 17 January 1991. The postal service regret what happened and look forward to Your possible claims. Rønne Post Office
B.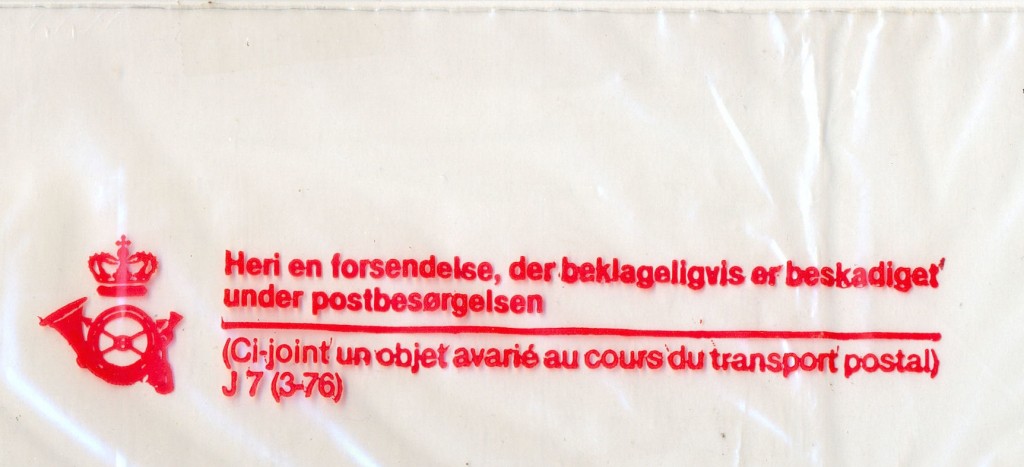 Service cover.
Transparant plastic bag with red
printing in the upper right corner.
Type J 7 (3-76).
Size: 338 x 230 mm.
Text translation:
Attached is a mail item, which unfortunately was damaged during postal delivery.
Examples of mail
Cover from the Post Giro office,  Høje Taastrup to Rønne with label type A. As the cover was still greasy it was forwarded in service cover type B. The recipient stamped the cover at arrival  21 JAN. 1991.
(Bornholms Museum Collection).

Much damaged cover with enclosed booklet sent from Neu Anspach, Germany to Rønne with label type A and service cover type B.
(Bornholms Museum Collection).